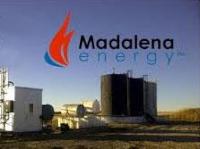 Madalena Energy Inc. has recently completed the testing of an operated horizontal multi frac well (PMS-1135(h)) in the Loma Montosa formation on its 100% working interest property at Puesto Morales, one of Madalena's four strategic resource plays in Argentina. Madalena is also pleased to provide an update on its horizontal well development on its Coiron Amargo Block.
Loma Montosa Oil Resource Play- Horizontal Well Test
The PMS-1135(h) well on Madalena's Puesto Morales block, was successfully drilled and cased with a tapered mono-bore assembly to a total depth of 2,600 metres with a horizontal length of approximately 1,095 metres. The horizontal section had twelve open hole frac packers and ports while the main 5.5' casing string was cemented using a staged cement collar. Madalena then completed Argentina's first 12 stage ball drop frac operation. All 12 stages were completed using a hybrid slickwater/gel frac that pumped a total of 10,900 bbls of water and 360 tonnes of sand (approximately 30 tonnes per stage).