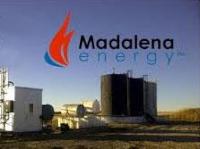 Madalena Energy Inc. provides the following operational update:
Domestic operations update: Western Canada
•On January 28, 2015, Madalena was advised by Keyera Corp. that Keyera's Paddle River gas plant will be shut down for a minimum period of two months commencing February 1, 2015 due to current economic conditions and recent commodity price declines in North America. The majority of the Company's Western Canada gas production (including solution gas relating to the Company's Canadian oil production) is processed at this Paddle River facility. As a result of the gas plant shut-down, Madalena will temporarily suspend production of approximately 660 boe/d in Western Canada (40% oil) on February 1, 2015. •The impact of this shutdown is a decrease in estimated funds flow from operations of approximately CDN $125,000 per month. •Madalena is currently reviewing other alternative existing plant options in the general area to assess potential interim or long-term processing capabilities.