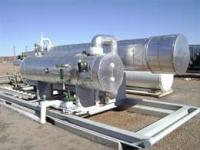 Magnum Hunter Resources Corporation announced certain updates on drilling activity and recently acquired lease acreage located in the Marcellus and Utica Shale Plays. Additionally, the Company is providing an update on the operations of its midstream division, Eureka Hunter Pipeline, LLC ("Eureka Hunter" or "Eureka").
Appalachian Basin Drilling Update:
The Company has now drilled and completed three 100% (approximately) owned wells located on the Ormet Pad in Monroe County, Ohio. The Ormet 1-9H Well tested at 2,676 Mcf/d and 216 Bbl/d of condensate, the Ormet 2-9H Well tested at 5,117 Mcf/d and 816 Bbl/d of condensate and the Ormet 3-9H Well tested at 3,876 Mcf/d and 756 Bbl/d of condensate. Eureka Hunter is continuing to install gathering system pipelines to these wells which are approximately 80% complete. Additionally, sufficient surface liquids handling equipment has been ordered and is scheduled to be installed by mid-March.