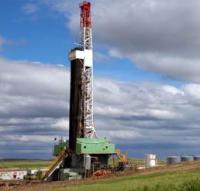 Magnum Hunter's fully owned Stewart Winland 1300U well located in Tyler County, West Virginia was placed on production last weekend. The Company's first Utica Shale well drilled and completed in the State of West Virginia and the most southeastern well in the entire play tested at a peak rate of 46.5 MMCF of natural gas per day (~7,750 BOE per day) on an adjustable rate choke with 7,810 psi FCP and has been flowing to sales through the Company's Eureka Hunter Pipeline system.
The Stewart Winland 1300U well was drilled and cased to a true vertical depth of 10,825 feet with a 5,289 foot horizontal lateral, and successfully fraced with 22 stages.
Additionally, three new Marcellus Shale wells (Stewart Winland 1301M, Stewart Winland 1302M and Stewart Winland 1303M), which are also 100% owned by the Company, have all been fracture stimulated and are ready for sales. The Company is awaiting an air permit from the State of West Virginia to begin flowing these Marcellus wells to sales.