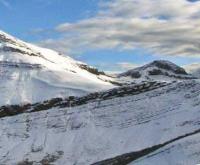 The only commitment well, and 1st earning well, of the Quirk Creek farm-in with Legacy Oil + Gas (Legacy) located at 11-31-020-03W5 was completed at a total vertical depth of about 2,050 metres. The unstimulated horizontal oil well tested the Cardium B zone and was production tested over a 66 hour period.
Through intermittent periods of swabbing and flowing, the well produced 571 bbls (400 net) of 46º API oil and 454 mcf (318 net) of associated gas during the test period, which is about 207 boe/d (145 net) of oil with associated gas.
Manitok will immediately drill the second earning well at Quirk Creek from the same pad, which is anticipated to spud within the next week. Once the second well is production tested, the pad will be put on production through temporary facilities for a period of approximately 3 months in order to understand the potential reserves recovery and deliverability of the reservoir.