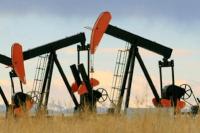 Marksmen Energy Inc. has participated in the drilling of a well operated by its joint venture partners, Hocking Hills Energy and Well Services LLC ('HHE') and Chuck Henry Energy LLC ('CHE') The well drilled is a Cambrian Knox remnant oil well, the Delong-Davis Unit #1, in Pickaway County, Ohio. Marksmen has a 45% working interest in the well.
The well was spudded on July 20, 2015 and reached its total depth on July 26, 2015 targeting a large Cambrian Knox remnant that was drilled based on the interpretation of new 3D seismic and encountered significant oil and gas shows in the top of the Cambrian Knox formation where open hole logs recorded porosities of greater than 20% over a 6 foot interval. Oil did circulate to surface.
The well is currently being completed for commercial production and is expected to have a pump-jack and bottom-hole equipment in place in a week with the tanks and other surface equipment to follow shortly. Production is expected to be on-line by mid-August. Marksmen believes that even at depressed WTI prices for oil, Marksmen's wells can be economically exploited because of the low drilling and operating costs for its shallow light oil drilling programs in Ohio.