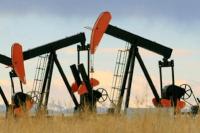 Marksmen Energy Inc. is pleased to provide the following operation update:
Davis-Delong Unit # 1 Well
As previously announced this well is operated by our joint venture partners, Hocking Hills Energy and Well Services (HHE) and Chuck Henry Energy LLC (CHE). Marksmen has a 45% working interest in the well. It was spudded on July 20th 2015 and reached total depth on July 26th, 2015. The well is in Pickaway county and the target formation is a Cambrian Knox remnant.
The well has been logged, cased and completed. A pump-jack and temporary tanks have been installed to allow production testing. The well began producing on August 5, 2015 and has average daily production to date of approximately 60 barrels of oil gross or 27 barrels net to Marksmen. The well is currently producing only oil with no appreciable water. The first shipment of oil was made on August 9, 2015.