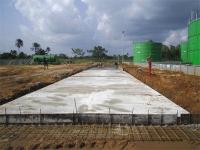 Mart Resources, Inc. says that its Board of Directors (the "Board") has initiated a process to identify, examine and consider strategic and financial alternatives available to the Company with the ultimate view of enhancing shareholder value and has established a Special Committee comprised of independent directors to oversee the process.
Strategic and financial alternatives may include, but are not limited to, the sale of the Company, merger or other business combination, sale of all or a portion of the Company's assets or any combination thereof, and continued execution of its business plans, among all other alternatives.
The Board has determined that it is timely to review the Company's strategic direction in light of reduced commodity prices and its future capital requirements. In this regard, Mart's management is currently working with its existing Nigerian lender to restructure its debt facilities in order to provide more flexibility in funding the development of the Umusadege field.