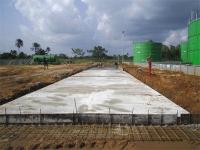 Mart Resources, Inc. and its co-venturers, Midwestern Oil and Gas Company Plc. (Operator of the Umusadege field) and SunTrust Oil Company Limited are providing the following updates on Umusadege field production for December 2013 and other operations.
December 2013 Production Update
Umusadege field production during December 2013 averaged 5,049 bopd. Umusadege field downtime during December 2013 was approximately 18.0 days due mainly to maintenance and repairs on the export pipeline performed by the pipeline operator, Nigerian Agip Oil Company Limited ("NAOC"). The average field production based on producing days was 12,185 bopd in December 2013.