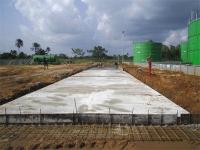 Mart Resources, Inc. has, through its wholly-owned Nigerian subsidiary, arranged to increase its existing secured term loan credit facility with Guaranty Trust Bank PLC from US$100 million to US$175 million.
The increased facility is available to fund field development activities on the Umusadege field, fund Mart's ongoing working capital requirements on the Umugini pipeline and to provide funds for potential future Nigerian oil and gas opportunities.
The secured loan facility has a term of five years and bears interest at 90 days LIBOR plus 4% (floor of 8.25%), which is unchanged from the terms of the Company's prior facility with Guaranty Trust Bank PLC.