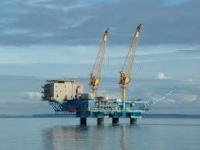 Miller Energy Resources, Inc. was named the successful bidder in a State of Alaska Exploration License (License) sale on acreage located on the Iniskin Peninsula, held on August 6, 2014. Miller believes this region has good potential for oil and gas and expects to receive the license from the State of Alaska by the end of August.
The Iniskin peninsula is located on the west side of the Cook Inlet, about 125 miles southwest of Anchorage and about 50 miles northwest across Cook Inlet from Homer. Oil was first discovered there in 1853.
"We have studied of the Iniskin region and think it has significant potential for commercial oil and gas production due to the hydrocarbon rich environment. The Jurassic rocks noted appear to be one of the thickest in the U.S., with part of the Jurassic exposed," explained David Hall, Chief Operating Officer of Miller Energy Resources. "We will conduct further geological studies after we receive the license before we determine the appropriate exploration plan which may entail shooting seismic."