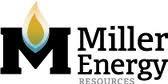 Miller Energy Resources, Inc. announced updates on its operations in Alaska and Tennessee.
"We are closing fiscal 2014 having achieved significant milestones, including substantially increasing production and reserves, reducing our cost of capital, and successfully putting our first grassroots well online," stated Scott M. Boruff, CEO of Miller.
"We enter this next year with the expectation of appreciably increasing production through our current drilling schedule, including RU-9, WMRU-8 and WMRU-2B, coupled with enhancements at North Fork and multiple productive zones on our Sword #1 well. Furthermore, through the acquisition of an additional rig, we plan to accelerate our drilling program. I have great confidence that fiscal 2015 will be another year marked by production and reserves growth as well as exceptional acquisition opportunities for Miller Energy."