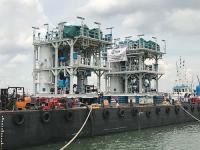 Minox Technology delivered on the 17th of January 2017 two water deaeration skids to the Egina FPSO. The compact modules were delivered out from ROS fabrication yard in Singapore. Samsung Heavy industries are transporting the skids to Nigeria where the water injection module will be finalised. The skids have a water capacity of 500,000 barrels of water per day (approximately 3,330 m3/h).
"This is an important milestone for us to reach. The contract is one of the most significant contracts ever awarded to Minox and represents another successful delivery of our compact, chemical free deoxygenation system. The project will be an excellent reference for us," says Bjørn Einar Brath, CEO of Minox Technology. "We are now looking forward to continue to build upon the good relationships with Samsung and Total in future operations."
Total and Samsung Heavy Industries awarded the deoxygenation system contract to the world's largest Floating Production Storage Offloading (FPSO) to Minox Technology. The FPSO is to be operated by Total at the Egina oil field, in the Gulf of Guinea, offshore Nigeria. Operation starts in 2018. The contract between Minox technology and Samsung Heavy Industries was signed in 2014.