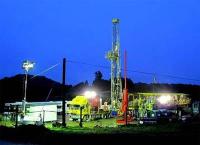 The Directors of Mosman Oil and Gas Limited is pleased to update shareholders in respect to operational activity at Crossroads-1.
The Company advises that the Drill Force Rig #1 has been mobilised and is now rigged up at the Cross Roads-1 location. The planned activities include perforation of the Cobden Limestone, and re-installation of the downhole pump and nodding-donkey, followed by flow testing. It is expected that the flow testing will continue for up to 60 days. The Company's Technical Director, Andy Carroll, is now on site and is overseeing rig activities as well as conducting a series of meetings with relevant stakeholders.
As stated in its Operational Update on 14 January, Mosman received an unsolicited approach to farm into one of its NZ permits. Discussions remain ongoing and the Company will update shareholders accordingly when it is appropriate to do so.