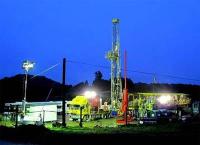 Mosman Oil & Gas advise progress at its Petroleum Creek Project as follows.
Crestal-1 Flow Test
The casing at the Cobden Limestone zone has been perforated in preparation for the flow testing. The well is now completed with rods and tubing to surface and a rod pump downhole.
Initial pumping has now commenced and a nodding donkey will be installed to pump the well for an extended well test ("EWT") to determine flow rates from this zone and we will report the results once a sufficient test period has been completed over the coming weeks.