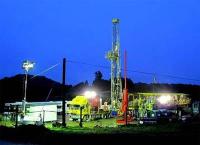 Mosman Oil & Gas Limited has now drilled three wells at Petroleum Creek; Cross Roads-1, Crestal-1 and Crestal-2. The Drill Force rig crew has returned to site after the crew's rest break. Wells have been completed and sites are being prepared for installing nodding donkeys to pump the wells for an extended period which is required to determine the sustainable flow rates of these shallow wells.
At Cross Roads-1, the well was completed on 11 October in the Eight Mile formation in preparation for the planned flow tests, and is now ready to be pumped as an extended well test (EWT).
At Crestal-1 initial flow testing commenced from the Cobden Limestone section of the well. As a first step in the initial flow testing programme, pumping has been successful in recovering the drilling mud used during the drilling of Crestal-1. The well has now been re-entered to add the Eight Mile formation as part of the flow tests, and following completion of the Drill Force rig operations is also now ready to be pumped as an EWT, pending the final installation of a recently purchased nodding donkey.