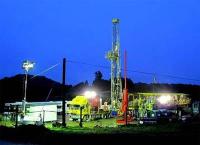 Mosman Oil & Gas advise drilling progress at its Petroleum Creek Project as follows:
At midday (NZ time) on Monday 22 September, Crestal-2 has reached a depth of 80m. The very slow progress is due to hole conditions which are similar to those encountered at Crestal-1;
Currently the well has not penetrated either the Eight Mile or Cobden formations; and
The seismic acquisition programme is now nearing 65% complete and SRK have commenced work on their aspects of the new data.
Mosman is pleased to also announce that as of 22 September 2014, the Company has received acceptances from Trident Energy Limited ("Trident") shareholders that comprise 86.93% of the entire issued capital of Trident.