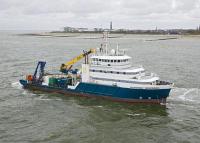 Subsea IMR provider, N-Sea, has successfully completed an unexploded ordnance (UXO) survey, ID and disposal campaign for the TenneT project, BorWin3. Taking place between January – August this year, the work scope involved surveying the seabed to identify and remove undiscovered explosive devices along the cable route of BorWin3.
Transmission system operator, TenneT's grid connection system connects wind parks in the North Sea with the high-voltage grid onshore. The survey campaign undertaken by N-Sea comprised a geophysical survey (multibeam, Side Scan Sonar (SSS), Sub Bottom Profiler (SBP) and Magnetometry) of 137 targets within the main cable corridor and adjacent anchor corridors, totalling almost 2000km.
N-Sea managed this project from Eemshaven, with a local team managing all near shore and offshore vessels whilst processing all acquired data. Four survey vessels were utilised, including the Noordhoek Pathfinder.