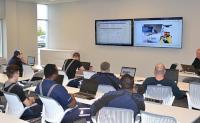 NDT Global, supplier of ultrasonic pipeline inspection and data analysis, has announced the opening of two new offices in Aberdeen, Scotland, and Leduc, Canada. The company has been steadily growing with significant investments in technology development and is already successfully operating from its other bases in Germany, Canada, Ireland, Malaysia, Mexico, Russia, Spain, UAE and USA.
Despite the protracted slump in oil prices, NDT Global has decided to further strengthen the company's operations worldwide and to continue its local commitment to delivering excellent on-site customer service. These new facilities will provide its customers with enhanced professional services and training opportunities and will improve project execution efficiencies.
The new office in Aberdeen, Scotland, is ideally located in the centre of the city, close to numerous North Sea operators, ensuring local and tailored support to the oil capital of Europe. By having dedicated personnel based in Aberdeen, NDT Global is better able to cater to its burgeoning customer base in the North East of Scotland and throughout the rest of the UK. "This expansion shows NDT Global's ongoing commitment to the North Sea market and its confidence in its long-term future, regardless of the difficult market conditions the oil and gas industry is currently experiencing," comments Gunther H. Blitz, CEO Europe, NDT Global.
The new Canadian facility located in Leduc, Alberta, is almost 5 times bigger than the previous one in Nisku, from which NDT Global first began to offer Canadian pipeline services in 1981. The new location is only a few kilometres south east of the Edmonton International Airport. The fully equipped 2,000-square-metre warehouse offers optimised shipping and receiving facilities which enables a safer working environment as well as tool testing capabilities to further improve first run success. Additionally, regular training workshops for customers can be comfortably held in the extended training room facilities.
"We are constantly looking for ways to improve and expand our services, support internal growth and offer a full commitment to our customers through technology advancement and capital investments," comments Terry Kachmar, CEO Canada, NDT Global.
Through these two new facilities, NDT Global is pleased to again demonstrate its commitment to enhancing its capabilities and continue the high level of service that customers expect.