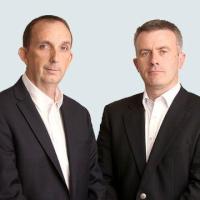 NDT Global, a supplier of ultrasonic pipeline inspection and data analysis services, has announced two senior appointments – Aogan O'hAolain, Chief Financial Officer, and Diarmuid Leahy, in the new role of Chief People Officer – to its global operation.
O'hAolain joins the company with over twenty years' experience, leading finance teams in multiple geographic regions. Having worked in various senior management capacities across multinational corporations, he brings an in-depth knowledge of multinational financial operations. In his role as CFO with NDT Global, O'hAolain takes on responsibility for the worldwide financial and risk management activities of the company.
O'hAolain says, "I am excited to start with NDT Global and look forward to working closely with the excellent team already in place. I am extremely fortunate to join such a respected company, one that prides itself on delivering the highest quality service in a safety-critical industry."
Taking over the people operations organisation at NDT Global, Leahy is an internationally experienced manager, having spent over 25 years working in broad-based senior management roles, across different industries and geographies, most recently with Marathon Oil in the US. Now based in NDT Global's Dublin offices, Leahy joins the organisation with a wealth of knowledge in human resources and talent development.
As NDT Global continually strives to develop and deliver superior solutions for its customers, it is imperative for the company to have the necessary measures and processes in place to source, retain and develop top talent. In keeping with this, Leahy's role will see him develop organisational structures and strategies to meet and surpass the needs of the business.
"I am thrilled to join NDT Global, an organisation built on quality and excellence. The experience and enthusiasm of the workforce, along with the growth of the company, made my decision to join NDT Global an easy one", Leahy says.
The appointments of O'hAolain and Leahy to the executive leadership team underline the company's commitment to developing its service offering to meet the future needs of the industry. These appointments are part of a broader and ongoing recruitment drive by NDT Global to support its continued growth, based on its leadership in high-accuracy ultrasonic inspections.