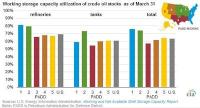 In an effort to better present crude oil storage capacity and use across the United States, EIA has prepared new tables as part of the semiannual Working and Net Available Shell Storage Capacity Report. The new series show crude oil stocks held at refineries crude oil in tanks and underground storage in each Petroleum Administration for Defense District (PADD). Previously, this information was only available at the national level.
Crude oil stocks in tanks and underground storage are used to calculate storage capacity utilization rates and to derive the quantity of crude oil held in pipelines and in transit by rail and water. Refinery stocks and storage capacity data by PADD have both been available since 2011, but the new table brings together these two sets of data to simplify the task of calculating utilization rates by PADD.
EIA updates storage capacity data twice each year, reflecting capacities as of the end of March and September. EIA has crude oil inventory data back to 1981, but storage capacity data were first reported by EIA for the end of March 2011.