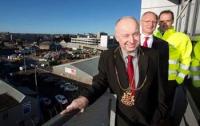 Work is now well underway to build a new North Sea headquarters in Aberdeen for leading UK independent oil producer EnQuest.
Aberdeen's Lord Provost on Tuesday, November 12 gave his seal of approval to what is set to become a new landmark building in the city.
EnQuest's new HQ will replace the derelict Aberdeen Seafood Park in the city's harbour area. The company currently employs around 500 people at two locations in Aberdeen, and will occupy the building, which will provide accommodation for up to 800 people when completed in 2015.
Developers Drum Property Group has said the redevelopment of the park will bring considerable economic benefits to a long-neglected city centre area.
Drum Director Graeme Bone commented: "This development enables EnQuest to relocate to larger, bespoke facilities and will help the company realise its continuing expansion plans.
"More generally, it will also lead to the physical regeneration of a neglected and rundown area of the city and in addition act as a catalyst in generating additional long term economic activity for the harbour area and the city in general."