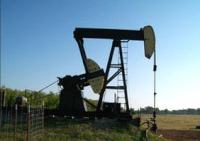 Nitro Petroleum Incorporated is announcing that a well they own interest in is preparing to spud today, 1-7-2014, named the Elmo #2 located in the W/2 of the SE of the SW/4 of Section 8-T16N-R2E in Lincoln County, Oklahoma.
The well is a shallow venture with the target formation being the Osage-Layton Sand with a proposed drilling depth of 3,600'. This is an established Osage-Layton Sand Field with excellent offset production located 40 acres to the northwest of the proposed location.
The drilling contractor is Walker Brothers Drilling Inc., Rig #17, which started moving in tools Saturday, 1-4-2014, and commenced drilling today, 1-7-2014. Drilling started with a 12 1/4" surface hole with 8 5/8" surface casing being proposed to be set @ 710'. A 7 7/8" production hole will be drilled with the ultimate goal of setting 4 1/2" production casing through the zone of interest. Nitro Petroleum Incorporated will announce further updates of the drilling of the Elmo #2 as it becomes available.