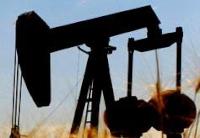 Nitro Petroleum Inc. has recently perforated their Giant #2-21 in Section 21-2N-8W on Thursday, (10-17-13) in the Upper Sears Sand, 6566' to 6576' (10'), and in the Lower Sears Sand, 6680' to 6730' (50').
On the following Monday, 10-21-2013, Nitro performed an acid breakdown with 1500 gallons of 15% HCL on their well. Tuesday, 10-22-2013, Nitro swabbed all of their acid breakdown fluid (including water flush) with an encouraging 40 barrels of oil with 320# of shut-in gas pressure entering into the borehole after being shut-in overnight.
Subsequently Tuesday afternoon, Nitro fracture treated the Giant #2-21 with 600 barrels gelled 4% KCL water and 10,000# of 20-40 sand allowing the well to be shut-in after treatment overnight till Wednesday.