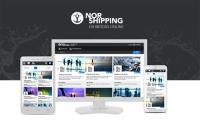 Nor-Shipping 2015 celebrates 50 years of looking forward with more happening than ever before.
Opening in less than two months, the leading and longest-running maritime event week is celebrating its 50th anniversary with an expanded program.
"This year's program offers thought-provoking conferences packed with high-profile speakers, as well as outstanding new forums that will engage the international maritime community," says Nor-Shipping Director Vidar Pederstad.
National and local dignitaries will come together with industry leaders to celebrate the official opening of Nor-Shipping 2015 on the evening of June 1 at the City Hall Square in Oslo.
The largest such event this year, not only in Scandinavia but also in Europe, Nor-Shipping attracts key maritime players from across 80 countries. Shipowners, technology and service providers, regulators, financiers and many other maritime professionals will meet in Oslo to explore the future.