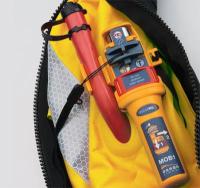 Ocean Signal introduces its new rescueME MOB1 for the first time at Seawork International this year as the latest product in its range of devices integral to the safety of crew in the commercial environment. The communication and safety at sea specialist will present the world's smallest AIS MOB device with integrated DSC, in addition to SafeSea products the S100 SART, V100 VHF and E100G EPIRB.
The award-winning rescueME MOB1 forms part of the Ocean Signal product portfolio developed to meet the needs of all commercial shipping, offshore industries and fishing sectors and designed to operate in the harshest marine conditions.
Integrating easily into even the most compact life jackets, the rescueME MOB1 will provide commercial workers and crew with the reassurance that they can be located quickly and recovered in the event of a man overboard situation.