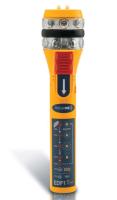 Ocean Signal introduces the new rescueME EDF1, the world's most compact electronic distress flare, to the commercial market for the first time at this year's Seawork International.
Featuring advanced LED technology, the lightweight and rugged rescueME EDF1 offers users a safe and long-lasting solution to visual signalling in an emergency.
The EDF1 has been designed by communication and safety at sea specialists Ocean Signal to provide more than six times the light coverage than other electronic flares. The light output is a beam of over 30° throughout the full 360° azimuth, plus light is also distributed throughout the hemisphere above the unit to ensure visibility from the air.
With a visibility range of up to seven miles and up to six hours' operation, the rescueME EDF1 has four different modes of operation – Economy, High, Ultra and Forward Beam - plus SOS signalling.