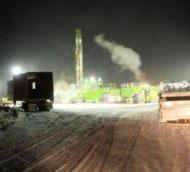 Octagon 88 Resources Inc., (OCTX) announce that the Manning Projects Operator (CEC North Star) has confirmed it has received the drilling license required for the spudding of the first production test well on the Bluesky Gething formation.
The construction of the Bluesky Gething drill site is currently underway. The drilling company and other required oil service providers are scheduling with the operator to provide the anticipated spud date within the next few days
With the 3D seismic data taken in January 2014 the Company has now received confirmation from the operator that a further 400 million barrels PIIP is exploitable, totaling a minimum of 800 million barrels PIIP in the Bluesky Gething formation.