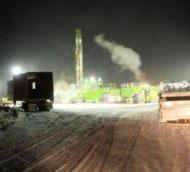 Octagon 88 Resources Inc. announce the well 07-10-091-22W5 on the Bluesky Gething formation has been successfully spudded and is currently drilling. The well is located in the Peace River Block of NW Alberta.
The Manning Projects Operator reports:
◾ The first targeted Bluesky Gething well 07-10-091-22W5 was successfully spudded on March 10, 2014 11:39 MST time. ◾ Drilling has commenced and will continue on the vertical leg targeting total depth of 480 meters.