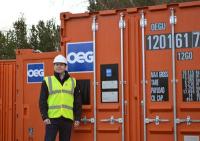 OEG Offshore, a provider of cargo carrying units (CCUs) and A60 modules to the oil and gas industry announces the merger of its US business with Louisiana based oilfield equipment provider Cameron Rental and Tank Inc (CRT).
The multi-million dollar merger positions the enlarged combined businesses with a full geographic network of locations across the Gulf of Mexico region, together with enhanced engineering and service capabilities and a wider range of equipment to support their customers' full range of requirements.
"This merger connects CRT to one of the biggest names in the industry and we are excited to be able to support our customers and the wider offshore oil & gas industry with the additional resources, products and services that we will now be able to deploy. I look forward to working with OEG to really accelerate our growth and provide our high quality service to a wider range of customers across the Gulf of Mexico and beyond," said Cameron Rental and Tank President Thomas McDaniel.
CRT has been servicing the Gulf coast oilfield industry since 2000 and has operations in key Gulf locations including Port Fourchon, Venice and Cameron. CRT provides a range of cargo carrying units including baskets and containers certified to the internationally recognised standards of DNV 2.7-1/EN 12079/IMO 860/SEPco OPS0055 and API RP 2A as well as DNV 2.7-1/EN12079 certified cutting boxes and DNV/MPT portable chemical tanks for rental alongside pumps and operated vacuum services.
"This merger provides an ideal platform for the OEG Offshore group to significantly expand its presence across the Gulf of Mexico region. We are pleased that Thomas and Chuck McDaniel, as former owners of CRT, as well as all of the company's other employees will remain with the business as we move forward together," said OEG Offshore Chief Executive John Heiton.
"We intend to work with the CRT team to develop their already strong service offering, at the same time as investing in growing the range and size of the fleet. We strongly believe that current and future customers of both OEG and CRT will benefit from a wider local base network and an enhanced product and servicing offering to support their production and drilling operations in the Gulf of Mexico."