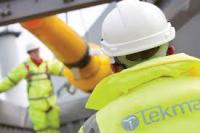 Tekmar Energy is bucking the market trend after experiencing steady growth in the oil & gas sector during what has been a challenging time for the industry.
Since the start of the year, and against the dramatic fall in the oil price, the company has expanded its reach into new global regions, won multiple orders of repeat business and brought in six new clients so far this year including JDR Cables, FlexLife and GE Oil & Gas.
James Ritchie, CEO, commented, "Working under the stringent guidelines of the American Petroleum Institute's API 17L specifications, we have invested and expanded our materials processes and in house testing to support the supply into this quality demanding sector. It has been tremendous to see the growth potential coming from the oil and gas division in what is described as a declining market".