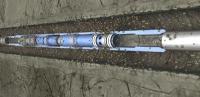 Independent well completion and intervention technology developer and manufacturer Omega Completion Technology has secured a completions framework contract with Statoil ASA.
The contract awards Omega the right to supply its unique ReACT Technology (Remotely Activated Completion Technology) to all Statoil assets in the Norwegian continental shelf, totalling 35. Omega delivered the first ReACT completion solution to Statoil 10 years ago and has provided completion equipment for more than 30 Statoil wells.
The initial contract period is for approximately two years with an option for an additional period of six years thereafter.