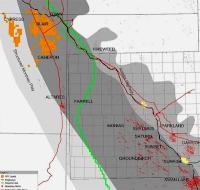 Painted Pony Petroleum Ltd. provide the following production and operations update.
INCREASED PRODUCTION EXCEEDING EXPECTATIONS
Painted Pony continues to achieve significant increases in its production base that have exceeded the Company's expectations. The recent production test results at Blair and Townsend, in conjunction with the commissioning of the new natural gas processing facility, have prompted the Company to increase its second quarter 2014 average production estimate.
The Q2 production estimate has been increased to 13,500 boe/d from the previous estimate of 11,500 boe/d. Field production estimates during the first week of April 2014 exceeded 15,000 boe/d, including 79 MMcf/d of raw natural gas production, 1,050 bbls/d of natural gas liquids production and 1,000 bbls/d of crude oil production.