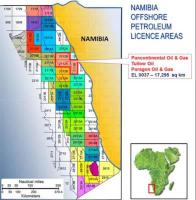 Pancontinental Oil & Gas and its EL 0037 joint venture partner and Operator Tullow Oil have agreed (subject to certain conditions) to amend the farmout agreement between the companies dated 5 September 2013.
Tullow recently requested from Pancontinental an extension to a deadline under the farmout agreement concerning a 'drill or withdraw' decision by Tullow, which was to have been made by 11 August 2015. Pancontinental has agreed to an extension of the deadline to 31 March 2016. The extension will allow the joint venture time to further assess the results of the extensive exploration programme of 3D seismic and geological work that have been carried out to date.
Pancontinental is very encouraged by the exploration results of Tullow's exploration activities within the EL 0037 area. Since farming-in to the project in 2013, Tullow has so far undertaken exploration work costing approx. US$34 million of the overall estimated farmin programme, with Pancontinental free-carried: •Led the Joint Venture as Operator; •Reimbursed past costs and has- •100% funded the 3D seismic survey not less than 3,000km2; •100% funded the 2D seismic survey not less than 1,000 km2; and •100% funded additional costs including mapping historic seismic.