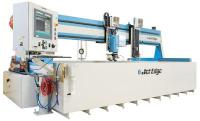 Jet Edge, Inc. is pleased to announce that Panpisco Technologies Inc. has been selected as its waterjet systems dealer for the Philippines.
Panpisco Technologies carries Jet Edge's EDGE X-5® 5-axis waterjet cutting systems and X-Stream® line of UHP intensifier pumps, plus Jet Edge's full line of waterjet cutting and surface preparation equipment, including waterjet cutting machines, waterjet intensifier pumps and portable waterjetting systems. The company also carries Jet Edge OEM waterjet parts and will eventually be authorized to service Jet Edge waterjet equipment.
Based in Pasig City in Metro Manila, Panpisco is a leading supplier of safety, e-security, green tech and custom apps to a wide range of industries, including defense, oil and gas, mining, manufacturing, and food processing.