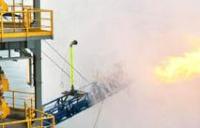 Parkmead Group has discovered a new gas field in the Netherlands by the Group's latest exploration well.
The Diever-2 well, targeting the Diever West exploration prospect, was drilled on behalf of the co-venturers by Vermilion Energy using the Explorer TB2100S drilling rig. The well reached a Total Depth (TD) of 7,457 feet and gas was discovered in a good quality Rotliegendes age sandstone reservoir.
The well discovered a significant 157 foot gas column, with both net pay and porosity values that have exceeded pre-drill expectations. Vermilion will set production casing in the well prior to testing and it is expected that Diever West will be tied into existing production facilities in the area.
Diever West is located in the Drenthe IIIb production licence, onshore Netherlands. Parkmead's co-venturers in the licence are Vermilion Energy (operator), NAM and EBN.