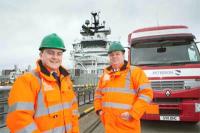 Peterson has appointed Loek Sakkers as director of projects and Stephen McCrindle as supply chain manager, within its offshore business.
These new positions have been created in response to growth within the business and changes in the logistics sector.
Mr. Sakkers, who joined Peterson in 1996 as manager of the logistics team will lead and support a wide range of marine related projects including the further development of Peterson's highly successful vessel sharing concept.
Mr McCrindle, who joins Peterson after 3 years as Supply Chain Manager with Stauff UK, will focus on the UK and Netherlands, as well as other operational business areas within the Offshore Group.