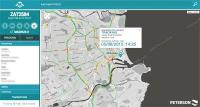 Peterson has unveiled VOR – a data-driven, intelligent and automated augmentation to the modern supply chain.
VOR is an interactive, transformative upstream oil and gas procurement and logistics service. It addresses the issues of complexity, duplication and inefficiency - due to the organic growth of well intentioned but contradictory systems and processes - as well as greater industry challenges of resource wastage and innovation stagnation.
Available at www.onepeterson.com, the company's customers, vendors and suppliers can enter data relevant to their supply chain operations. VOR then provides a real-time view of where any goods or services are at any time, from warehouses and vessels, to pallets, helicopters, containers and trucks.
Among the many benefits that VOR will bring to the oil and gas industry are cost reduction through the use of this collective data; risk mitigation, as a result of its complete visibility and transparency; and production optimization, which can be achieved through VOR's focus on true collaboration.
Erwin Kooy, CEO of Peterson, said: "Working alongside the team at Streamba has shown us just what can be possible if we take the traditional supply chain model and create a far more modern and sophisticated way of handling the information that is vital to oil and gas operations worldwide.