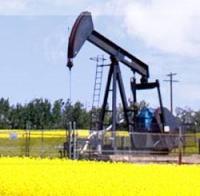 Petroamerica Oil Corp. is pleased to announce two new oil discoveries, present its expected 2014 production and capital expenditure guidance, and provide an operations update for ongoing activities in Colombia.
La Casona-2 Mirador Discovery, El Eden Block (40% Working Interest)
The La Casona-2 appraisal well was drilled 600 meters away from La Casona-1 and a service rig was used to test the Mirador Formation, which was untested in the La Casona-1 well. The well was tested over an extended 7-day period from a 12-foot perforated interval on a restricted 20/64-inch choke and averaged an oil rate of 545 bopd and 3.6 MMscfd of gas, with peak oil rates reaching more than 740 bopd. The well was flowing naturally and a total of 3,903 barrels of 47 degree API oil was recovered during the test. The water-cut at the end of the test was 1.9%.