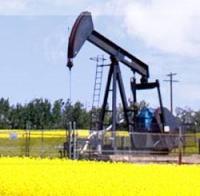 Petroamerica Oil Corp. announce a light oil discovery at the La Guira-1 exploration well on the Los Ocarros Block. The Company is also pleased to announce that total Company Working Interest production reached a new high with an average rate of 6,312 barrels of oil per day (bopd) over the month of October. Operations at the El Eden Block continue to progress, with the La Casona-2 well scheduled to begin testing in the next two weeks, the La Casona-1 well long term test production expected to commence within the next week, and the Rumi-1 exploration well currently drilling at a depth of approximately 5,000 feet.
La Guira Well, Los Ocarros Block (50% Working Interest)
The La Guira-1 exploration well on the La Guira prospect was spud on October 9, 2013 and drilled to a total depth of 12,500 feet. The well encountered 11 feet of net pay in the Mirador Formation, which was flow tested on a fully open choke for a period of 24.5 hours.