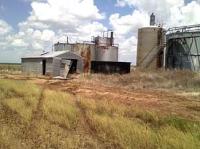 Petron Energy II, Inc., together with its subsidiaries, engages in the acquisition and development of properties for the production of crude oil and natural gas, the transportation of natural gas through its pipeline subsidiary and well servicing through its servicing subsidiary. The Company's operations are based in the United States.
The Company announced in its August 28, 2014 press release that it would begin drilling operations on two wells during the month of September, one new well on its Gerner lease and a second on its Gerner Trust lease.
This morning Petron Energy II, Inc. reported that it had completed all drilling operations on each of the new wells drilled on its Gerner and Gerner Trust leases respectively. The Company reports that each well was drilled offsetting wells previously drilled on both leases. During drilling operations, oil began to flow into the pits when drilling through the desired payzone for each well.