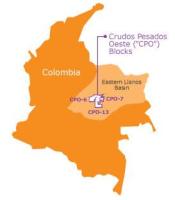 PetroNova Inc. provided an operational update on the drilling of the Canelo Sur-2 well on its PUT-2 Block, located in Colombia's Putumayo Basin.
The Canelo Sur-2 exploratory well was spud on October 26, 2013, after setting surface casing at 2,195 feet. While drilling was proceeding, operations had to be suspended as Community unrest prevented the crew from accessing the rig for a total of six days.
Once operations resumed, bottom was reached with considerable difficulty, experiencing severe drag and pack off attempts, which indicated that the exposed Orteguaza shales were severely affected by the exposure time to water-based drilling fluids. Trips became increasingly more difficult and intermediate casing was run, however the shale section prevented it from reaching bottom.