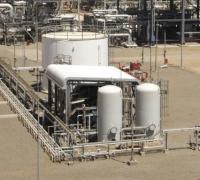 Prices of spot liquefied natural gas (LNG) for February delivery to Asia plunged to a four-year low, averaging $9.911 per million British thermal units (/MMBtu), according to latest Platts Japan/Korea Marker (Platts JKM™) data for month-ahead delivery. The figure reflects the daily Platts JKM assessed between December 16 and January 15, expressed as a monthly average.
The February JKM average registered a 47.3% year over year drop, the largest on record since Platts began assessing the JKM in February 2009. The JKM reached levels not seen since February 2011, when it averaged $9.854/MMBtu.
On a month-over-month basis, the marker was down 1.5%, with the market tipping from contango* into backwardation towards the end of the month as pressure from unsold cargoes and low demand began to build.
"The JKM has dropped to levels we haven't seen since pre-Fukushima," said Stephanie Wilson, managing editor of Asia LNG at Platts, a leading global energy, petrochemicals and metals information provider and a premier source of benchmark price references. "This is due to a relatively mild winter across much of the northern hemisphere; reduced power consumption from various industrial users in northeast Asia; and users switching fuels, as commodity prices across the board have fallen."