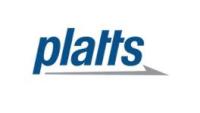 China's apparent oil demand in August climbed to its highest level in a year, according to a just-released Platts analysis of Chinese government data.
Platts analysis shows apparent oil demand in August was 41.19 million metric tons (mt), or an average 9.74 million barrels per day (b/d) — an increase of 3.7% year over year. This growth came despite a slew of bearish economic data, including a decelerating industrial production growth rate of 6.9% — the slowest pace since end-2008. At the same time, fixed asset investment for August was estimated to have risen 13.3% year over year — the lowest rate since December 2011 — according to analysts. Overall, the economic data suggested that the central government's stimulus measures implemented at the start of the second quarter of this year have lost momentum, with domestic demand softening.
On a month-over-month basis, China's apparent oil demand in August rose 1.4% from July. Over the first eight months of the year, total apparent oil demand was up 1.2% from the same period in 2013 at 9.9 million b/d.
Crude oil throughput by refineries in August increased 4.4% year over year to 9.78 million b/d, according to data released by China's National Bureau of Statistics (NBS) on September 13. Meanwhile, oil product imports dipped 1.6% to 2.53 million mt and oil product exports climbed 9.6% to 2.73 million mt, resulting in net exports of 200,000 mt, according to data released by the General Administration of Customs on September 8.