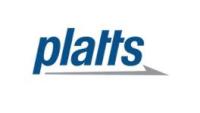 China's apparent oil demand in February contracted 1% year over year to 40.7 million metric tons (mt), or an average 10.66 million barrels per day (b/d), according to a just-released Platts analysis of Chinese government data.
Despite the contraction, this was the second-highest monthly volume on record. Following government revisions to data from a year ago, China's apparent oil demand in February 2014 was adjusted to an average 10.76 million b/d – the record high volume.
Apparent oil demand in February this year increased 4.3% from January's average of 10.22 million b/d.
China's refinery throughput in February averaged 10.39 million b/d, falling 2.5% from a year earlier but expanded 2.4% month over month, data from the country's National Bureau of Statistics showed March 13.
Figures from the General Administration of Customs released March 8 showed oil products imports for February jumped 11.2% to 2.68 million mt, while oil product exports slumped 16.8% to 1.68 million mt, reflecting some inventory build by state-owned refiners. This resulted in net oil product imports of 1 million mt in February.
Over January to February, China's total apparent oil demand rose 2.6% to average 10.43 million b/d. This is the highest rate of growth over the two-month period since the 5.7% recorded in 2012, this is in contrast to the 0.6% contraction seen over the same period last year.