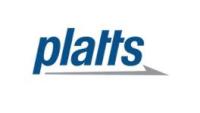 China's apparent oil demand rose 10.2% in August from a year earlier to 11.19 million barrels per day (b/d), according to a just-released Platts analysis of Chinese government data.
Barring gasoil and naphtha, China's apparent demand for all other key products-gasoline, liquefied petroleum gas (LPG), jet/kerosene, and fuel oil-saw double digit year-on-year growth in August.
China's refinery throughput in August averaged 10.49 million b/d, up 6.5% from a year earlier, data from the country's National Bureau of Statistics (NBS) on September 12 showed.
Meanwhile, China's net imports of oil products surged 131% year on year to 700,000 b/d in August, driven by strong inflows of LPG, fuel oil and naphtha, according to data released September 21 by the General Administration of Customs.
During the first eight months of this year, China's total apparent oil demand averaged 11.14 million b/d, an increase of 8.2% from the same period of 2014.
China's actual oil demand growth could be higher since stocks of key products have fallen, Platts estimates show. 'Inventories of gasoil, gasoline and jet/kerosene fell by between 2.5% and 9.7% at the end of August, from end July,' said Platts Associate Editorial Director for Asia Oil News Mriganka Jaipuriyar.