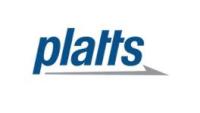 China's apparent oil demand in March rose 0.5% year over year to 41.55 million metric tons (mt) or an average 9.83 million barrels per day (b/d), a just-released Platts analysis of Chinese government data showed.
The growth in apparent oil demand last month is significantly less than in previous years, when it averaged 1.9% in March 2013 and 4.2% in March 2012.
China's refinery crude throughput volumes last month rose 2.6% to 9.91 million b/d versus a year ago, according to the latest data from China's National Bureau of Statistics.
Oil product exports rose 3.4% year over year to 2.74 million mt in March, while imports of oil products slumped more than 24% on an annual basis to 2.37 million mt, a 19-month low, according to China's General Administration of Customs data released April 10. This made China a net exporter of oil products for the first time since early 2010, at 370,000 mt for the month. This compared with net imports of oil products of 480,000 mt in March 2013.
"The net export of oil products is evidence that China is now facing a period of overcapacity as oil product supply outpaces domestic demand," said Song Yen Ling, Platts senior writer for China. "Refiners are coping by sending more oil products overseas, as well as lowering their run rates."