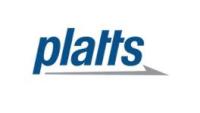 Oil production from the Organization of the Petroleum Exporting Countries (OPEC) remained below the group's 30 million barrels per day (b/d) ceiling for a second consecutive month in February as lower volumes from Libya and Nigeria more than offset increases from several other countries, a Platts survey of OPEC and oil industry officials and analysts showed Friday.
Having averaged 29.94 million b/d in January, supply from the 12-member group dipped by 20,000 b/d to 29.92 million in February, the survey showed.
"The fact that OPEC is producing slightly below its ceiling is more a consequence of continuing disruption in Libya rather than any deliberate move to keep a lid on supply," said Margaret McQuaile, Platts senior correspondent. "On the other hand, the group's key producers do not appear over-eager to boost output."
Libyan production fell to 270,000 b/d from 330,000 b/d in January, a fall of 60,000 b/d.
The Sarir field, which had been producing around 185,000 b/d, was shut in in the middle of February after saboteurs attacked the pipeline linking the field to the export terminal at Marsa el-Hariga. Repairs were carried out and production resumed the following week, only to be shut in again because of power cuts caused by bad weather.
Nigerian output, which had climbed to 1.98 million b/d in January, fell back by 60,000 b/d to 1.92 million b/d in February.