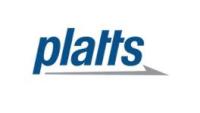 Oil production from the Organization of the Petroleum Exporting Countries (OPEC) fell by 300,000 barrels per day (b/d) to 30.3 million b/d in October from 30.6 million b/d in September as supply from Saudi Arabia, Iraq and Nigeria dropped back, according to the just-released Platts survey of OPEC and oil industry officials and analysts.
Kingpin producer Saudi Arabia accounted for 150,000 b/d of a total 380,000 b/d decline that was partly offset by an 80,000 b/d increase in Libyan supply. Iraqi and Nigerian volumes fell by 90,000 b/d and 70,000 b/d respectively.
Libya's average production of 860,000 b/d was the highest monthly volume since July 2013, when output averaged 1 million b/d. But the month-over-month increase, although marking the latest increment in a steady monthly climb from as little as 200,000 b/d in May, comes amid the North African country's increasing political strife, which is feeding into the oil sector. Earlier Tuesday, a source with close ties to the National Oil Corporation said production was currently running at around 540,000 b/d after falling back from around 1 million b/d at the end of October.
"Just as Platts reports a drop in OPEC production, easing up on what looked to be significant oversupply relative to world demand, there are new reports of a sharp slowdown in Libyan output, just this month," said John Kingston, Platts global director of news. "That sort of volatility creates a significant wild card as OPEC heads to its meeting at the end of November: with one country in position to be responsible for short-term increases or decreases measured in the thousands of barrels per day. Planning in that atmosphere becomes almost impossible."
The October total, which leaves OPEC overproducing its 30 million b/d output ceiling by just 300,000 b/d, is some 900,000 b/d above OPEC's most recent forecast of demand for its crude in the first quarter of 2015. In its most recent monthly oil market report, OPEC forecast that the call on its crude would fall from 30.15 million b/d in the current quarter to just 28.4 million b/d in the first three months of 2015. For 2015 as a whole, OPEC expects demand for its crude to average 29.5 million b/d.
On Monday, Kuwaiti oil minister Ali al-Omair said he did not expect OPEC to cut output at its November 27 meeting in Vienna.
There has been no word from Saudi Arabia on the upcoming meeting, which takes place just three days after the deadline for nuclear talks between Iran and six world powers to produce an agreement that would lead to the removal of sanctions on Tehran and an eventual return to world oil markets of more than 1 million b/d of Iranian crude exports.
"Even if a nuclear deal with Iran is reached, it's not likely the market will see new Iranian crude in the short term," noted Kingston. "But the prospect of increased flows from Iran at some point in 2015 could arise at the meeting."