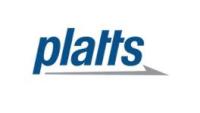 Day-ahead natural gas prices in the U.K. and continental Europe fell to multi-year lows in May as demand slumped by 12%, according to data just released by Platts, a leading global energy, petrochemicals and metals information provider.
U.K. day-ahead natural gas prices were down 9% month over month and down 31% year over year. Day-ahead natural gas prices on the Dutch TTF – continental Europe's most liquid natural gas trading hub – were down 6% month over month and 29% year over year.
European natural gas demand in Platts' sample of the U.K., Belgium, Italy, the Netherlands and France fell 9% from April's 16.3 billion cubic meters (Bcm) to May's 14.9 Bcm. On a yearly comparison, demand for the sample markets in May was down 12% from 16.9 Bcm in May 2013.
"Demand continues to trend lower this year due to mild temperatures, the growth in renewable energy production and low levels of gas storage injection," said Alex Froley, Platts energy analyst.